Cornhole
Premier Party Bar and Patio located in St. Louis
Cornhole is a classic game that's perfect for any group size. It's a great way to socialize with others and have some friendly competition. Bar 101 in St. Louis, MO offers cornhole for our customers in our beautiful outdoor area! Whether you want to play in the sun and soak up some rays or under the stars, Bar 101 is the place to be. You can listen to live music, enjoy a cold beverage, and play cornhole all in one spot!
How to Play
The game is played with two teams of either one or two players. Each team takes turns tossing bean bags at the cornhole board until a player reaches 21 points. The first team to reach 21 points wins the game!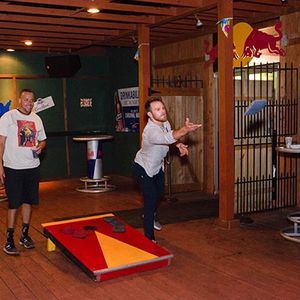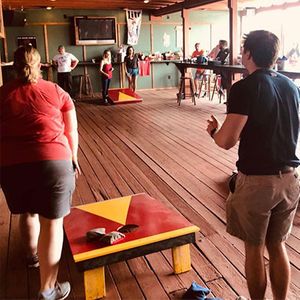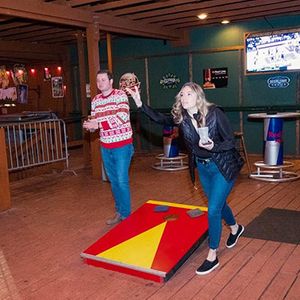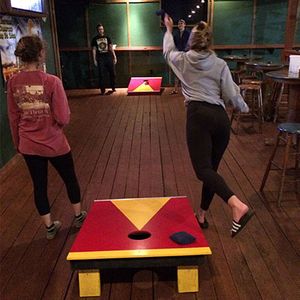 Tips & Tricks
Even though cornhole seems like a fairly simple game, there are still some strategies that can help you play your best.
Tip #1:
Make sure that you grip the bean bag correctly. You want to hold it in the palm of your hand and then use your thumb and first two fingers to squeeze it tightly. This will give you the most control over the bean bag and help you aim more accurately.
Tip #2:
Practice your bag tosses before you start playing. This will help you get a feel for how hard of a grip you need, how hard to throw the bean bag and how much arc you need to put on it to land it efficiently on the board.
Tip #3:
You can block your opponent's shot by tossing your bag right in front of the hole to make your opponent have more difficulty scoring on the board. Keep in mind though, they may pull this stunt on you as well.
Ready to take on the challenge and play some cornhole? Bar 101 is the perfect place to do it! With our great atmosphere, cold drinks, and live music, you'll have a blast. So gather up your friends and come on down to Bar 101 today!